Extracurriculars
The Cavalier Battalion participates in many extracurricular activities within ROTC that are both physically and mentally challenging.
Ranger Challenge
Ranger Challenge gives cadets a chance to work together in teams and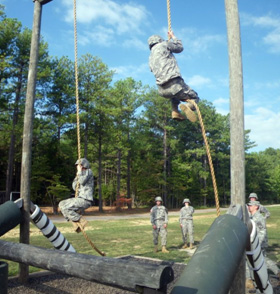 prove themselves in tough mental and physical competition, enhance their leadership development, and develop their team cohesion. Events like land navigation, first aid, ruck marching, and marksmanship are tested as teams compete for the Ranger Challenge trophy, and earn the Ranger Challenge tab.
Participating in Ranger Challenge takes dedication and hard work. It is not simply a matter of showing up on competition day. Cadets take extra time out of their schedule, waking up early for PT and staying up late for night land navigation. Though tough, Ranger Challenge offers valuable experience that can help cadets in ROTC and later on in the Army. They get a chance to see Army bases such as Fort Bragg and Fort Pickett, and get to meet real Army officers, NCOs, and enlisted personnel at the competition, who have experience ranging from infantry to logistics to Special Forces.
UVA has always had a highly successful ranger challenge team. Our cadets train hard, dedicating many extra hours to physical training and basic Army skills. They never fail to represent both the Cavalier Battalion and UVA well at competition.
Mosby's Rangers 
Mosby's Rangers is a group of cadets who have passed qualifying standards in both physical fitness and technical skills and help train other cadets. The cadets participate in additional training that includes land navigation, shooting, ruck marching, and additional STX training exercises. These additional exercises are meant to help improve cadet scores in the ACFT, Land Navigation, Drill, and other aspects of Cadet Life.
Army 10-Miler
The Army 10-Miler is the second largest 10-mile race in the US, held each year in October in our nation's capital, Washington, D.C. The Cavalier Battalion proudly participates each year, sending a team to D.C. for the weekend to run in the race. The team trains together on a regular basis in order to be successful in the race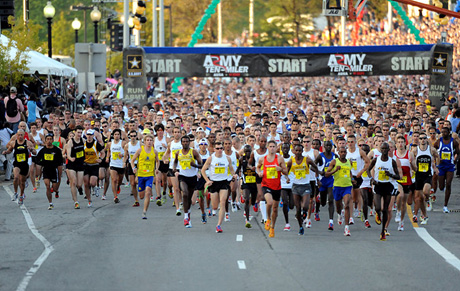 ---
Giving Back
The Cavalier Battalion works to help our community and the Army through philanthropic endeavors around Grounds. The Battalion participates in several activities such as Parade Rest, Service Day, and the Veteran's Day Dinner.
Parade Rest
Parade Rest is a program that provides wounded warriors with the opportunity to attend football and basketball games. At each game a cadet meets with the family to provide them with the tickets and escort them to the game. Cadets involved in Parade Rest also help to provide free tickets to active-duty service members on Veteran's Day.
Service Day
Every year Army ROTC cadets volunteer with local nonprofit charity organizations to give back to the Charlottesville community and engage with civilians. This year we worked with Habitat for Humanity and Ronald McDonald House. 
Veteran's Day Dinner
The Veteran's Day Dinner is an annual event held on Veteran's Day that provides students with the opportunity to dine with local veterans and personally thank them for their service. While this helps to provide a link between veterans and cadets, it also serves as a way to bridge the civil-military divide that is present on grounds. The majority of students at UVA have little to no relationship with the military and this annual dinner provides them with that opportunity.
R.J. Hess Memorial 5K
This race honors an alum of the program, 1LT R.J. Hess, who was killed in Afghanistan in 2013. Every year, friends, family, peers, former soldiers and superiors come together with the current Charlottesville community in order to celebrate RJ's life and legacy. We were happy to continue the tradition and increase the number of participants every year!